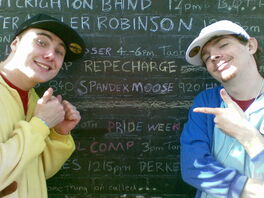 Spandex Moose are a nerdcore hip-hop duo operating out of Australia. So far they have released two EPs, these being
Math-Unit
and
Terror-fying Skillz
but they were your sub-standard shithouse rhymes, so they don't acknowledge their existence anymore.
You can find half of their group, Happi, lurking around Nerdcore Now. The other half, Eloquent, prefers to spend his time intoxicated and passed out in various locations.
They are currently working on their third release, tentatively titled Tools of the Trade, due out sometime in 2010. But it is now 2012, as you can see they are lazy as fuck. Also there's a preview for it on bandcamp now tentatively titled Everything's Peachy.